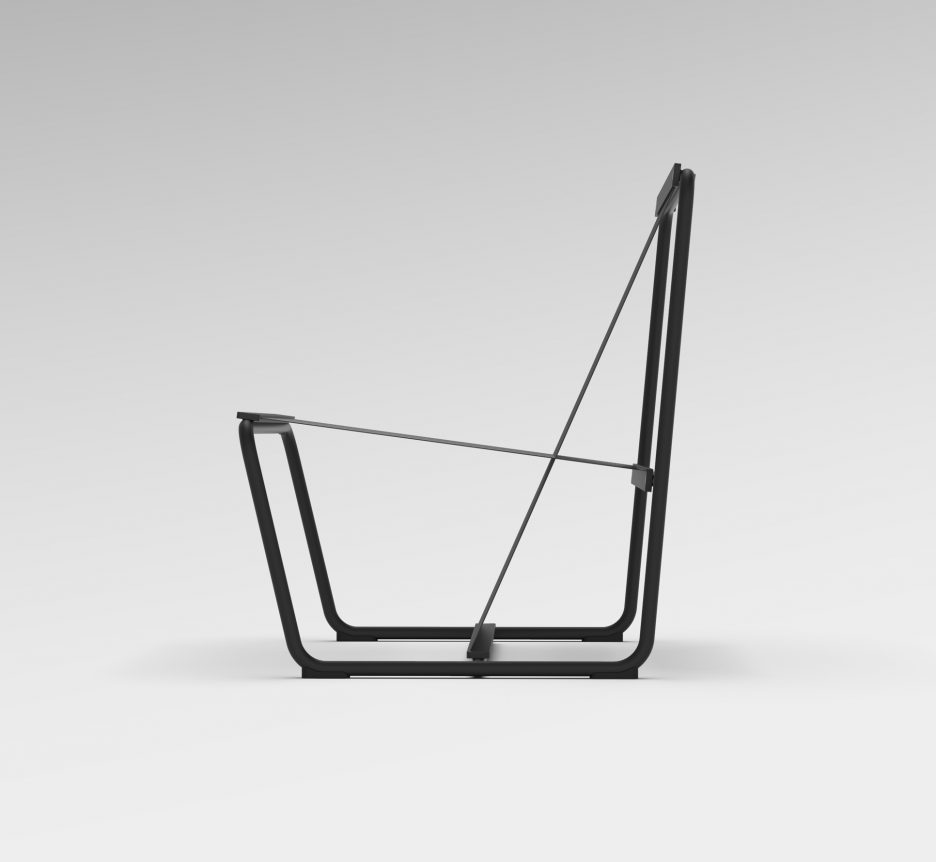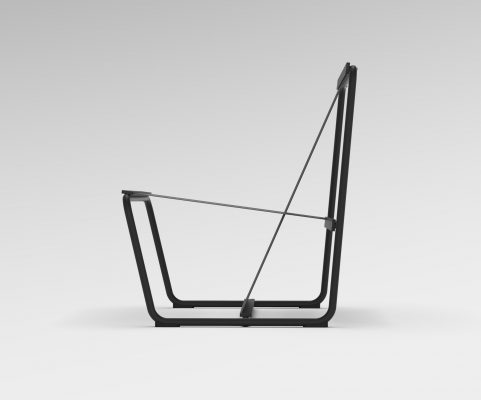 Gordon Russell Design Competition Winner Announced
It is our great pleasure to announce that the winner of the 2020 Gordon Russell Design Competition is George Peirce, a graduate of this year's Product and Furniture Design course at Kingston University, for his Strung chair design, pictured. The idea for the design arose through, as he describes it, 'an exploration of tension', and the outcome is a minimal, tubular steel framed lounge chair strung with ninety-one metres of tennis racket wire which is stretched across two planes to intersect and form the seat.  
Inspired by Gordon Russell's design philosophy, the competition called for innovative designs for a chair suitable for batch or mass production, made from any material. The competition was open to students aged 16 or over in full or part time education, and the museum received an array of stimulating and creative submissions from students across a range of disciplines. 
The judges were very impressed with George's graphic, beautifully detailed and beautifully executed design, its outline creating an instantly recognisable shape and cleverly hinting at its lightweight construction. 'An exquisite visual tension – tuned to perfection', commented judge Steuart Padwick. 
George says of his winning design, "tension is all around us in our day to day lives ranging from large civil engineering masterpieces or as small as the Coping saw that you used in design and technology at school and even within many sports such as tennis and badminton. However, tension is rarely used within furniture. Strung is material exploration project celebrating the magic of tension by using the wire that's hatched in the middle of a tennis racket which has been stretched across two intersecting planes to create a minimal seat which suspends the user in its tubular steel frame, as if they were levitating.''
The Gordon Russell Design Competition was established by the museum in 2018 to celebrate new design talent. The biennial award is part of the museum's ongoing commitment to support the next generation of furniture designers, building on Gordon Russell's legacy as a champion of design and education.
Thank you to everyone who submitted a design to the competition, and to our esteemed panel of judges, Katie Walker, Steuart Padwick and Arash Shahbaz. We are also extremely grateful to Imagination for their sponsorship of the prize. George wins the first prize of £1,000 plus a year's free membership of ACID (Anti-copying in Design) and we will look forward to exhibiting his chair at the Gordon Russell Design Museum in due course.
All images © George Peirce
With thanks to Imagination, generous sponsors of the 2020 Design Prize